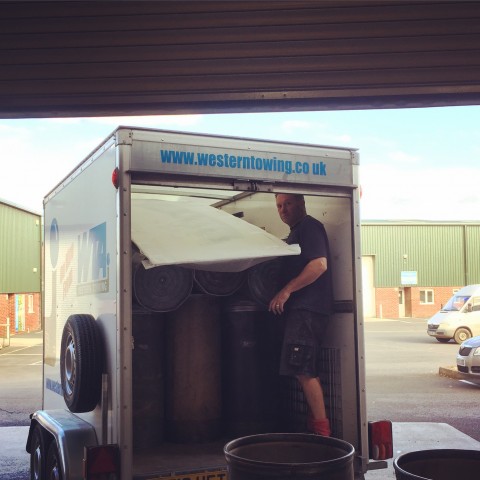 Now back and unpacked from Yarndale we are trying to comprehend the amount of Knit by Numbers cubby holes we have to fill! We had an amazing show and really enjoyed it, even with the trauma of not being able to open our very stuck trailer door on arrival, (See the photo of John wrestling the sign in on our Instagram here.) without the aid of a shepherd's crook and the lovely duo that are Freyalyn Fibres!

Thanks to everyone that came to visit us over the weekend. We always have so much fun talking to people about the yarns they are choosing for their latest projects, whilst weighing out Tops that are destined to be spun up or felted. It's fab to meet so many people learning new skills and trying out new crafts. A special thank you to the lovely organisers for all their hard work and splendid young men for helping us pack all our stuff up and Freyalyn Fibres for helping sort our trailer.
We were so humbled and excited to see how well the Knit by Numbers in 4ply was received. The new Grape range is almost all gone, but we still have a special stash of each colour available via the Secret Mill Member page. And, on this secret Mill Members page, you can also find the beautiful Devon bred Bluefaced Leicester with Silk tops that are so beautifully scrumptuous.

Some of you may have seen, and even bought, some of our new Devonia Top – a gorgeous blend of Exmoor Blueface, Devon Bluefaced Leicester and Devon Wensleydale. A real home grown blend … and I am sure John told some of you the story of this, but, if not, more on that soon ; – )

Anyway, our next show we will be a slightly different affair … Frankie will be going to Yarnporium in London with some carefully selected yarns and brand new patterns! Keep your eyes peeled for more info over the coming week.