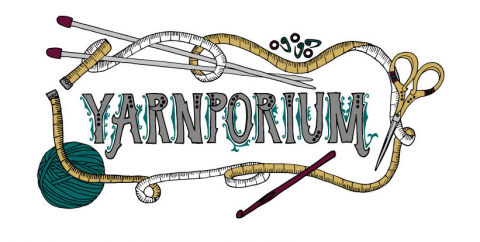 Yarnporium (a brand new show) is fast approaching! It is this weekend! And we are busy preparing lots of yarn for you behind the scenes!
Yarnporium is a new show from the lovely ladies who organise The Great London Yarn Crawl. Find out more and buy tickets here. We are really excited to have a stand, especially as we are doing it in a brand new way … it will be Frankie's first solo show.

Earlier this year Frankie flew the Devon nest and landed in London, whilst still working for us there and coming along to various shows with us, she has also had patterns featured in the beautiful Autumn & Winter issues of Pom Pom Quarterly magazine. Lemel, the winter jumper uses our Alpaca Supreme yarn which Frankie will be bringing along on her stand. With plenty of our other yarns, including a carefully selected colour range of the new Knit by Numbers 4ply which can be used to make Vellamo, Frankie's Autumn Pom Pom jumper design. You can find Frankie on Instagram @francescahughesknitwear.
Three gradient shades of Exmoor Zwartbles with accompanying cardigan pattern samples (the patterns will follow soon). One of Frankie's fave yarns, and it still smells like the sheep in the fields (in a great way…)
Sneaky pics here!

Brand new pattern Gilt Wood, a big cosy square shawl in Autumnal colours perfect for this time of year. Made using 3 colours from the Harvest Hues range, which will also be coming soon! A great blend of soft and bounce due to the Merino blend with our local Zwartbles.
Along with Sweet clementine shawl pattern using the Alpaca 2-3 ply yarn. A heavy lace with beautiful drape.
Plus Alpaca Delight, scrummy pastel colours in a fingering weight so soft yarn.
As we will be having a smaller stand than normal we may not have everything, but feel free to order with Frankie though and we can send it off to you. Unfortunately our space is limited, so we won't have any Fibre or Tops, but hope to cater for all your other woolly, yarny needs!
Hope to see you at Yarnporium, this weekend, the 5th & 6th November, King's College London, The Strand, WC2R 2LS, Saturday, 5 November: 10am – 5:30pm, Sunday, 6 November: 10am – 4pm.