Down the Allotment & 2023 Specials
We can't tell you how excited we are to be hosting our Virtual Mill Open Weekend again. Now you know we like to make a bit of a celebration out of these things, so we've created a shiny new limited edition tops & yarn range especially – Down the Allotment. Plus we've got some other scrumptious goodies created in collaboration with some of our woolly chums.
All these specials which will launch at 12:30pm (BST) on Saturday 8th July on our website.

Introducing our Down the Allotment, 2023 Special!
We're chuffed to bits to be able to announce this year's MOW special, Down the Allotment DK & Tops! Quite a few of us Mill Folks love getting our fingers stuck into the soil and tending those veggies when we're not at the mill. So we've turned to our favourite crops and tools when naming these delicate marls: Potato Patch, Borage and Purple Tepee to name just a few. The yarn is made by plying four singles together, which has enabled us to create delicate and subtle marls – rather than the more traditional high contrast ones. Some shades (like Borlotti Bean) contain as many as four different colours within them, giving the colours a nuanced depth. Once worked up, we reckon they are just the ticket for capturing the feel of that dappled light and relaxed energy of the veg garden!

The eagle eyed amongst you will note that the shades of our Down the Allotment tops are different to the finished yarn. This is because they reflect the shades of the yarn before all that marling. We would encourage folks to snaffle a few shades, spin them up and see what marled experiments they can create with their handspun! We love the creative possibilities of playing with colour in this way and found it tremendous fun at the mill, so hopefully you folks at home will relish the freedom to experiment too.
The fibre is a blend of Falklands Merino and West Country Jacob. We adore the softness and smoothness of Merino and think that pairing it together with springy and hard wearing Jacob creates rather a joyful combo; packed full of texture and loft, whilst still being soft enough to wear next to the skin. Jacob sheep are naturally spotted (like many-horned, woolly dalmatians) so adding the pale brown Jacob fibre lends the finished colours a gentle muted feel. Merino can be a little prone to pilling, which is one of the reasons we decided to make this yarn a 4-fold DK, to keep those pesky floofy bits in check a little!
Composition: 65% Falklands Merino / 35% West Country Jacob
Yarn Spec: DK (4/9nm) –  112 meters per 50g skein. Also available in mini bundles (10g of each shade, 100g of yarn total)
Colour Palette: 10 shades of yarn and 9 shades of tops available, all named after sights and sounds about our veg patches!
Price: Yarn – £10 per 50g skein or £22.00 per minis bundle (10g of each shade, 100g of yarn total) | Tops – £6.50 per 100g lot


Down the Allotment Patterns
And, as all us Mill folks get rather excited when there is a new yarn to play with, we just had to whip up a few glorious accessories. First up on the left is the Lagertha Cowl designed by our pal (and crochet afficionado) Fay Dashper-Hughes. This elegant cowl is a beautiful textural fabric with a giant plait, and comes in three different sizes, depending on how many times you'd like to be able to wrap it round your neck. In the centre is our Helena's Vegetable Patch Cowl. This is a simple striped cowl, knit as a tube and grafted together. The double thickness DK makes it nice and cosy, perfect for chilly mornings harvesting your home grown produce and ideal if, like us, you just want to knit with all the colours of our Down the Allotment DK! On the right is an oldie but a goodie, the Toast and Jam Mitts designed by Emily Foden, we just love these elegant twisted rib mitts and are so pleased about how the Down the Allotment samples turned out!

Other Specials…
We will also have a few other goodies created in collaboration with a few of our fave woolly pals – all those who joined us and vended at our in person MOW. More info on these just below
All these limited edition specials, plus our Down the Allotment goodies will go on sale as part of our Virtual MOW celebrations at 12:30pm (BST) on Saturday 8th July – hurrah!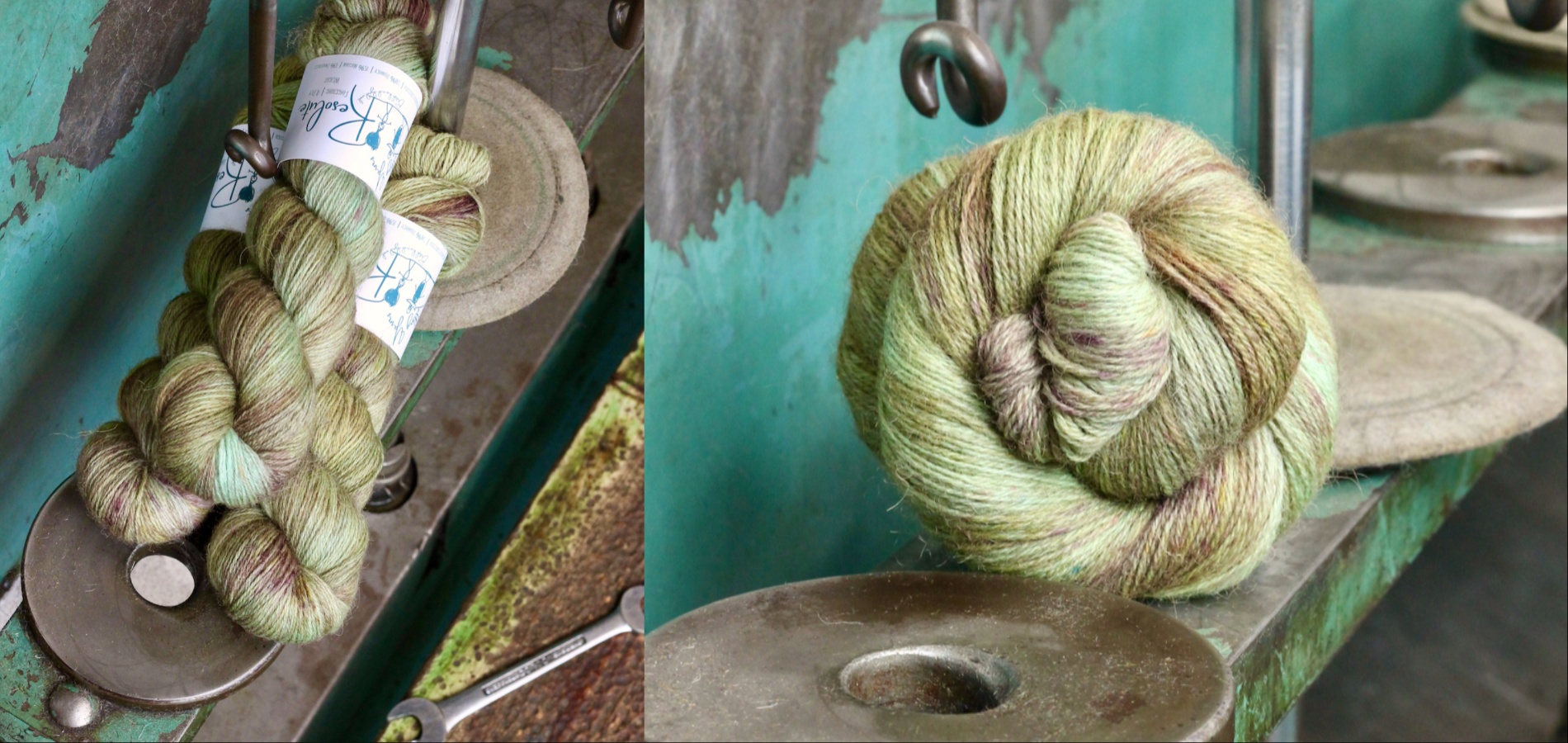 Agatha on Resolute 4ply, Created in Collaboration with Beth of Telling Yarns
Pssst, did you know that beloved crime fiction author, Agatha Christie, spent many years living in Devon? She particularly loved the sunny South coast and it's beaches. Our pal Beth of Telling Yarns always takes her inspiration from literary works, so we were over the moon when we realised that she and us Mill Folks have a shared love of Christie's crime novels. What better inspiration for a special limited edition colourway for our Mill Open Weekend than these perfect summer holiday page turners?!
Beth created a glorious Mill Member exclusive colourway, Heathcliff, for us last year and cor blimey, she's certainly done it again! This sophisticated Pistachio shade has hints of plum and rust running through it and is giving us all the Art Nouveau feels – Poirot would certainly wear a matching pocket square – or Miss Marple a matching floral blouse!
Composition: 50% Bluefaced Leicester, 30% Romney, 15% Masham and 5% Zwartbles.
Spec: 4ply (3/12nm) –  400 meters per 100g skein. Resolute is spun by us exclusively for Telling Yarns
Price: Yarn – £22 per 100g skein, hand dyed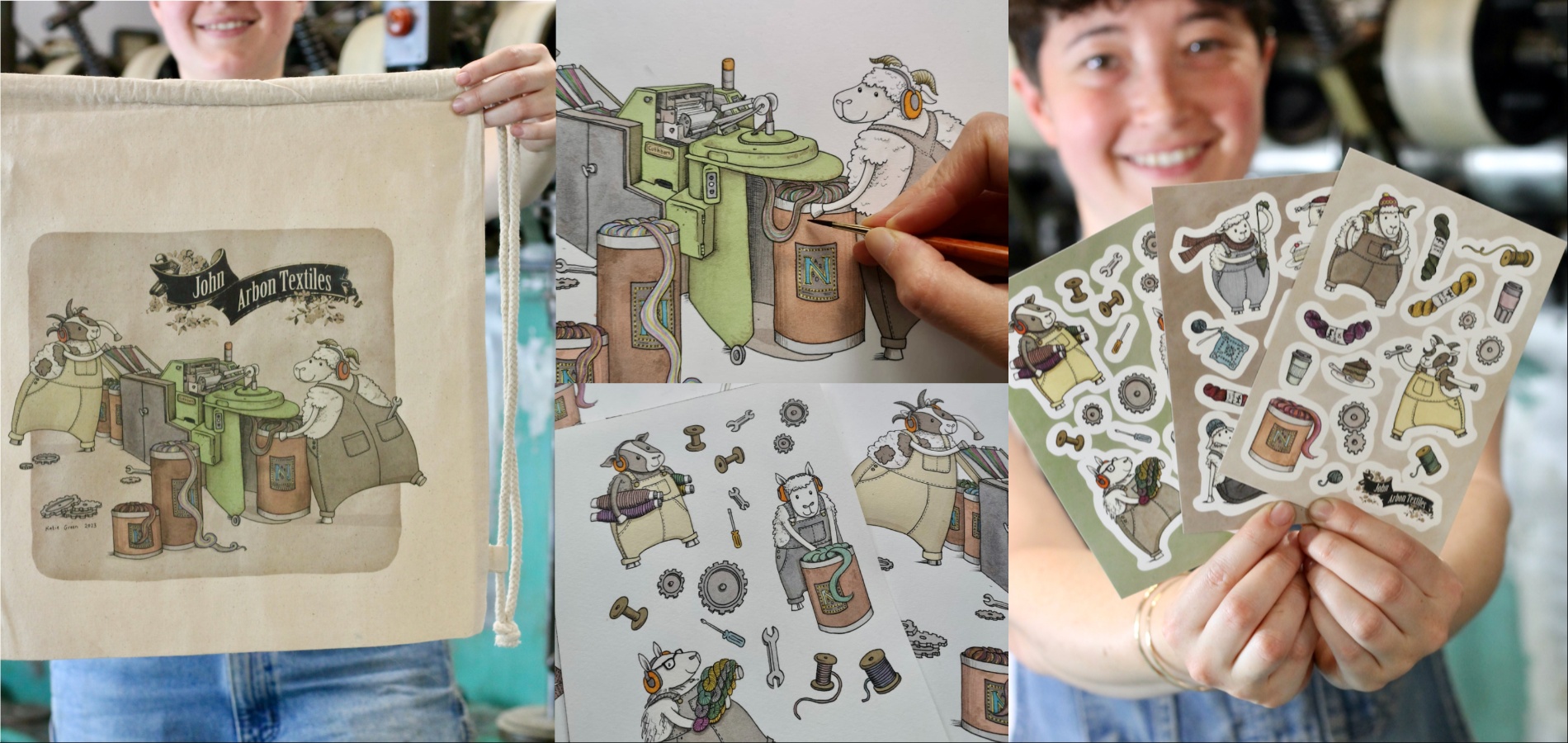 Project Bag & Stickers, Created in Collaboration with Katie Green Bean
Ooheee! Our pal, Katie has illustrated these joyful items (a bag and sticker sheets) in collaboration with us here at the Mill. The brief was 'what if sheep took over the mill for the day?' Katie is one of our favourite humans because in answer to this, Katie simply asked 'which breeds?' To which we replied, 'the ones we use to make our blends, of course!' It's safe to say we're on the same wave length…
And so we bring you this glorious three sheet sticker set with woolly sheep dressed like us Mill Folks (in dungas and ear defenders) and operating vintage machinery, crafting or nibbling cake. Plus a brilliant drawstring project bag of two sheep – a Jacob and a Merino no less (as its their fibre in our Down the Allotment special) gilling up some specials on Cuthbert. We could not be happier with how these delights have turned up, so hope you'll love their playful nature as much as we do!
Stickers: Printed on YUPO synthetic paper, a biodegradable alternative to plastic. Waterproof enough to use on your laptop or water bottle, but also great for anywhere paper stickers would work, too.
Bag: Printed in the UK on 100% Cotton. Cotton and bag manufactured in India in a Fair Trade certified factory.
Price: Stickers – £6 per set | Bag – £8 per item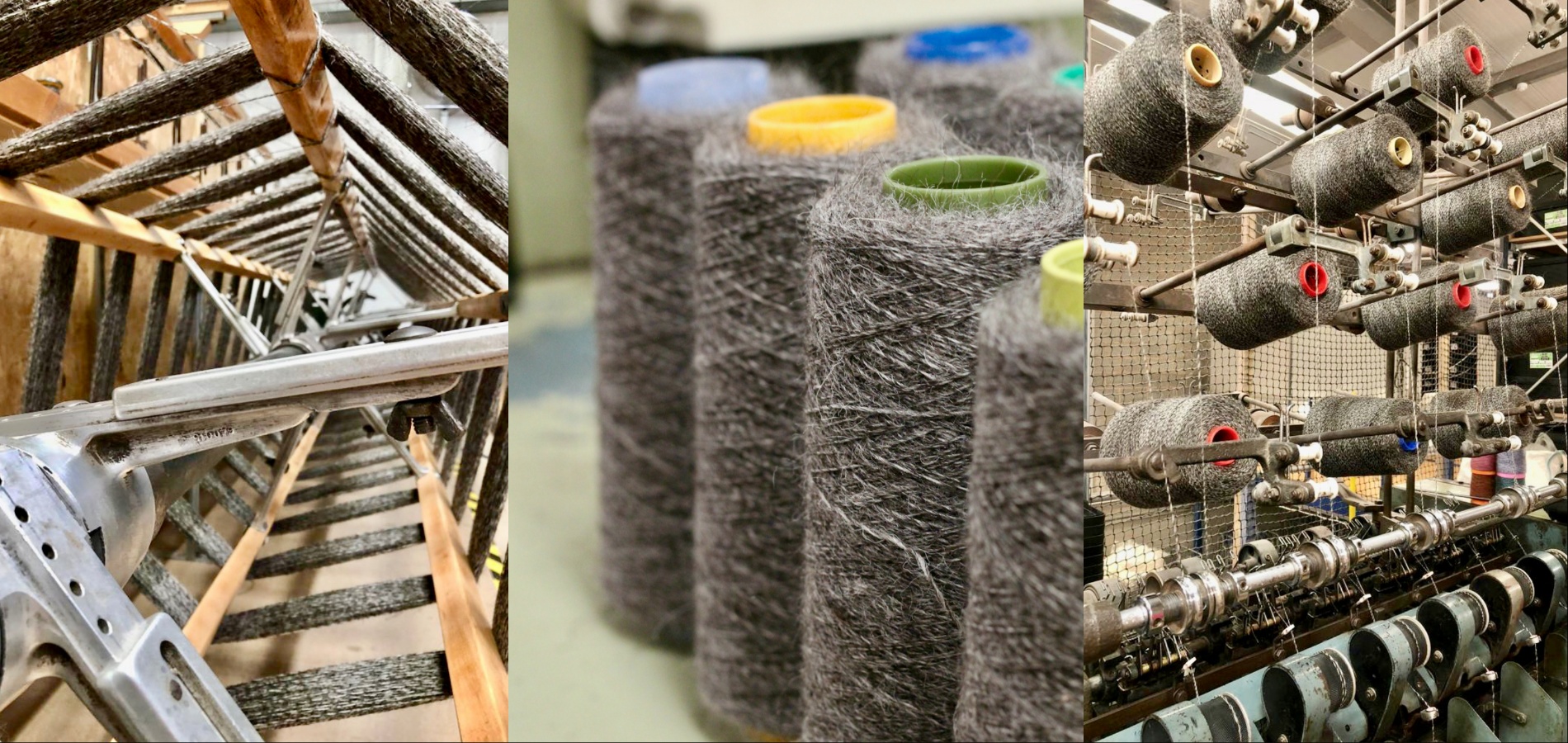 Two 4ply Yarn Specials Coming, in Collaboration with Rachel of Daughter of a Shepherd
Rachel specializes in small batch yarns which enhance the wonderfully woolly qualities of naturally coloured British fibre. Most notably Hebrideans as those frisky little characters are what her father shepherded. We've been making Rachel's yarn since the beginning of her journey back in 2015. Like Rachel, we bloomin love a woolly wool, so its been a real delight to work with her on two exciting custom blends for our MOW – Hebra Zebra and Ammonite 4ply. More info on these lovelies soon!
Composition: 50% Exmoor Blueface / 50% Hebridean
Spec: 4ply (2/8nm) –  400 meters per 100g skein.

Down the Allotment Spin Gauge, Created in Collaboration with Fay of Provenance Craft Co.
Not only has Fay created the elegant Lagertha Cowl pattern for our MOW, she's also managed to create this glorious Spinner's Gauge. This handy tool will lend an invaluable hand to all you stonking spinners out there wondering what thickness exactly it is you've created – hehehehe. Tis rather a useful thing, indeed! Simply pop your handspun in the grooves and you'll then be able to figure out whether you've got a 4ply or a sport. Or, if you haven't plied your yarn yet, popping a ply in might help you decide whether to go for 2, 3, or 4 plies – depending on what overall thickness you're aiming for.
Plus, we love the little veggos Fay has popped on there. Perfect if you fancy spinning down your allotment!
Spec: Laser cut by Fay using sustainably sourced wood.
Price: £11.00 per item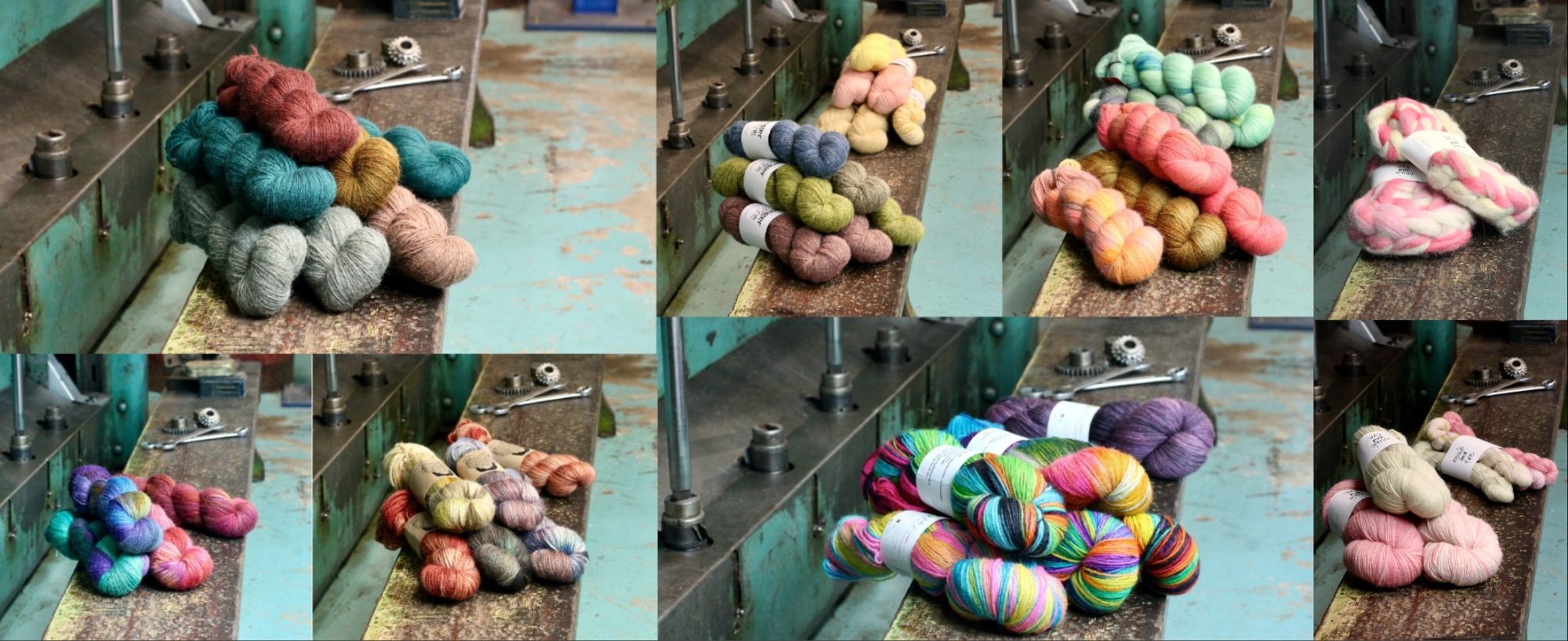 Glorious Hand Dyed Yarn
And, if all those delights aren't enough to tempt you, then we are chuffed to bits to also have a few beautiful hand dyed skeins by some of the brilliant dyers who use our bases to dye on. We were lucky enough to have these shades at our in-person MOW earlier this month, so (of course!) we'll be adding these same delights to our website for our virtual MOW too.
This year we'll be welcoming Saskia of Ovis et Cetera (who has a custom base and is also going a talk on sustainable dyeing!), Ginger Pink Yarns (who has used our Brand New KBN 50/50 DK blend and Harvest Hues 4ply), Bohei (on Appledore Lace), Nellie and Eve (on Devonia yarn & tops), Felt Fusion (on Exmoor Sock 4ply), Nervus Fibre (on Devonia DK) and Third Vault Yarns (on Exmoor Sock 4ply). So whether you're into self-striping, subtle speckles, tonal pastels, pops of bright, moody teals and everything in between, there's definitely going to be something to tickle your fancy