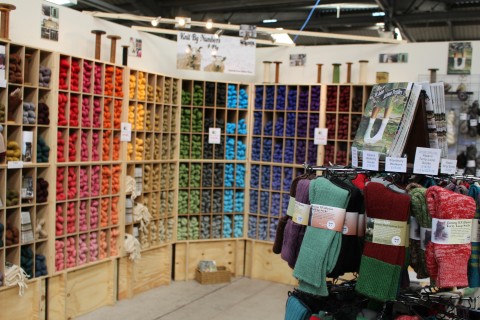 Wonderwool Wales was the very first outing of our brand new Knit by Numbers 4-ply. We took it along in it's beautiful new display cabinets (hand made for us by the joiners down the road from the mill in South Molton).
Having the huge range of colours in DK and 4ply side by side on our stand looked amazing … 91 different shades of each creating a glorious colour experience!


We had our regular yarn ranges as well, including Viola and Alpaca 2-3 ply. Along with Frankie's Sweet Clementine shawl pattern … knitters are now starting to finish their projects and share their photos, the shawls are looking great.

We also took along our Harvest Hues 4ply range – a blend of beautiful shiny Merino and rustic Devon Zwartbles. And also our Alpaca Delight 4ply – soft, powdery pastels with punchy limited edition colours.
John and Becky did a fab job maning Top island. We had so much Fibre with us, more than ever before at a show. All the colours and fibre blends we could possibly cram into our trailer! We know you Wonderwool folk love your spinning and fibre crafts, so we always took some extra special things along, including James' crazy Haslem Super Gills where he blends numerous dyed Merino shades into colourful limited edition blends.

If you couldnt make it to Wonderwool this year, here are some more photos of our stand, and a lovely photo of John and Juliet recieving the prize for best big stand. And as always, thank you very much to the lovely organisers for doing a great job and having us again.

Love John, Juliet and the entire team that worked so hard to get the Knit by Numbers 4ply a reality!
XX