Welcoming Devonia at Edinburgh Yarn Festival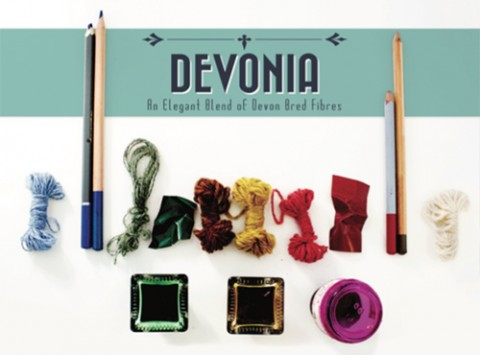 We are now making ready for the long drive from Devon to Edinburgh Yarn Festival (very excited)!
We are in pre-show busyness – preparing and packing Tops, Socks and Yarns.
And we are adding the finishing touches to something very special to be unveiled at Edinburgh… our brand new yarn DEVONIA (more about that in just a mo' but here is a photo to wet your appetite).
Firstly, however, a big thanks to Unravel for having us again. We had a fab time at the Maltings and were so happy to be back for the first show of the year! Thanks to Gemma for organising the show. And thanks also to the lovely PomPom ladies for coping with John's jokes during his podcast. Hi Pomcats! Meanwhile we were as proud as punch, cos Frankie, who works with us and has also in the past few years developed her pattern designing to another level (being published in the likes of PomPom and Knitting mag), gave her first show talk At Unravle – revealing what it is like to be a new up-and-coming knitwear designer. You can find her on Ravelry here, and on Instagram @francescahughesknitwear
Rightio, back to DEVONIA. We have been developing this new yarn for over a year and now it is ready for its first outing. It is a blend of fibres from 3 locally bred sheep – our local Exmoor Blueface sheep, Devon bred Bluefaced Leicester and Devon Wensleydale. It's a glorious blend of crunch and luster. The wools are beautifully soft and off-white, the natural colour is creamy with a little gold and lots of shine (that's the Wensleydale). There are 14 shades (including natural white) in a light 4ply / fingering weight (388m per 100g), with a DK in the same shades to follow later in the year. The colour palette has been influenced from the work of acclaimed French tapestry artist Jean Lurcat and each shade of Devonia has a lustrous mottled depth of tone.
After the 4ply preview and launch at Edinburgh, along with some selected Tops in the complimentary DEVONIA shades that we are also taking along, we will do another Blog about colour selection and the process of blending and decision making! And, for all those Mill Members out there, never fear, we will be adding the Devonia in 4ply and tops onto the secret Mill Members web page towards the end of March (we will let you know when it is available).
Here, then, is a taster of DEVONIA before Edinburgh Yarn Fest. If you are at the show we will be on stand F3, so you can come and have a first peak and squeeze in person.
Here is the yarn being processed from Tops into yarn in Kevin our new Spinner! He can do lots at one time!
Here are two colours as Tops before they get spun into singles.
The final singles on bobbins, fresh off of Kevin, these will now rest for a week before being folded (plied) into a 3 fold yarn to create a light four ply! We look forward to introducing you.