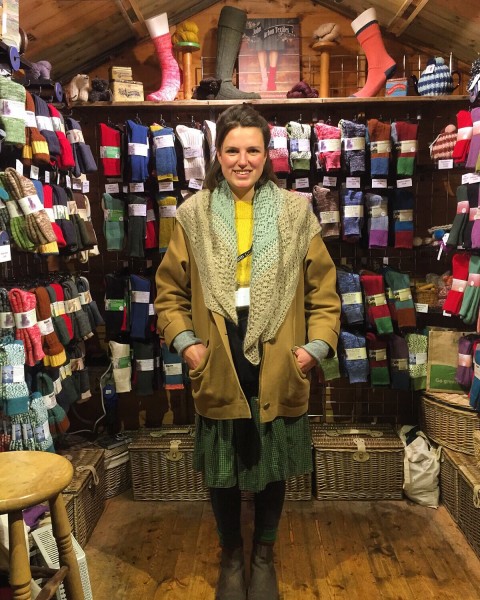 We are home and unpacked from the first ever Nottingham Yarn Expo! Thanks so much to everyone who came and visited the stand.  We had a great weekend, and we loved the venue of Nottingham Uni.  Frankie had a successful first solo show selling all her patterns alongside us – it was lovely to have her there.
We particularly loved the string quartet and harp playing over the weekend – a lovely touch.
Oh, and we had a great curry one evening – it was amazing and they even produced real hot towels at the end of the night!
We are now busily packing up for our next show, Bath Christmas Market. This is all about the socks and cosy feet.  It is that time of year already! We are looking forward to being cosied up in our normal chalet on York Street (no.114 – near the end where York St meets Stall St).

We will have plenty of alpaca and wool socks in all sorts of colours and styles. This Christmas market really gets us in the Christmas spirit. Here are some photos of our chalet in years gone by so you know what to look out for…
We will, as always, have a sock to suit every occasion…
Including the comfy yet hardy Stanbury Walkers (made from our Local Exmoor sheep and featured on BBC's Countryfile).
New jazzy colours in our Alpaca Stripy socks.
Thermal Alpaca Terry Loop socks to keep your feet warm as can be.
Also our gorgeously soft and cosy Alpaca Bed Socks – perfect for a cold night or just lounging about on the sofa…
… plus so many more.
You will indeed find a perfect treat for your feet!
 Do come and say hello if you are there … and if you make a visit do not forget the 10% discount leaflet for Bath Christmas Market that can be found in the catalogue!
Bath Christmas Market – Thursday 23rd Nov to Sunday 10th December