BBC's CountryFile came to visit.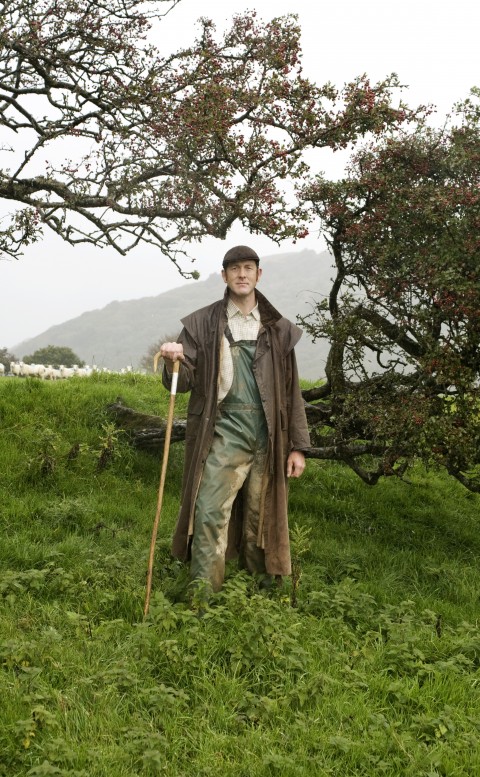 A week or so ago we had some very special guests pop into the Mill in South Molton… the BBC's Countryfile team.
They had heard tales of our Stanbury Walker socks and wanted to learn more…

So John told them how his dream of making a sock from the fibre of his local sheep, the Exmoor Blueface, started over 10 years ago after many a chat in our local pub, The Rising Sun, with our neighbourhood Lynton farmer, and friend, John Stanbury. They both agreed that it would be amazing to wear socks made from yarn spun at our Mill in South Molton from the fleeces of the very sheep that Farmer raises on the rambling hills of our home village of Lynton. And so John (Arbon that is) set to work… and now, a few years later, proudly produces a comfy, yet strurdy, cushion-soled walking sock knitted from local Exmoor Blueface wool. And he has rightly named these after the farmer who tends the sheep that produce the fleeces … so they are called the STANBURY WALKER.
As Countryfile came so far to hear this tale, they decided to see more for themselves.
They spent a blustery January morning up on the hills in Lynton with Farmer John Stanbury – they visited his farm and flock of Exmoor Blueface Sheep, finding out about the farming and history of our local breed.

They followed this with a visit to our John (Arbon) at the Mill and saw local fibre being processed and spun into yarn – they were introduced to each of our vintage Mill machines in turn and learnt how the fleece of a sheep that lives just up the road can be transformed into a beautiful yarn and sock.
We all had a splendid afternoon showing off the Mill machinery that John has spent the last 15 years lovingly gathering, re-conditioning and transforming to full working order.
Ellie, the lovely Countryfile presenter, asked John many a question. And John even knitted a sample Stanbury Walker sock on an 100 year old, hand operated knitting machine in front of her eyes – and then Ellie had a go at knitting one herself!
So there you have it, a truly fab day spent sharing the process of turning our local fleece into a comfy sock.
And, so you can share in the wonderful time had by all, the Countryfile team filmed Ellie's visits to both the Johns and are showing highlights of the days happenings during their programme on BBC TV on Sunday 24th January at 5.30pm…
We would just like to end by thanking the Countryfile team for visiting and sharing a moment in our wondrous world of wool deep in the heart of beautiful North Devon.