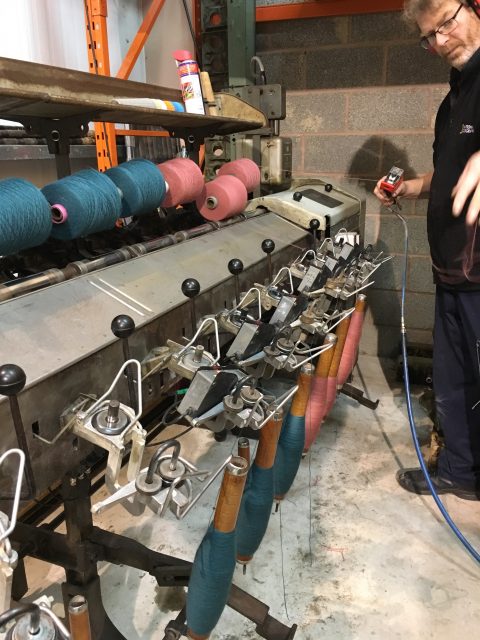 We have been working hard in the mill spinning our beautiful new Devonia range into a DK weight yarn. And it's being skeined and twiddled as we speak!
Here are some piccys of the single ply yarn being coned and then out on the folder to be twisted into a 3-ply DK. Afterwards being skeined.

In all the same gorgeous, rich, blended colours as the 4ply, the DK is a 3-fold yarn with 233 meters per 100g. Made from 3 locally farmed Devon fibres (Exmoor Blueface, Bluefaced Leicester, Wensleydale), it is exceptional to knit with and has such a beautiful sheen.
The Devonia DK will aptly have its first public showing (alongside the 4ply and Tops in the same blend / shades) at our up-and-coming Open Weekend on the 10th / 11th June at our Mill in South Molton, (you can find out all about that here) and is also available for pre-order on our website here.

Knitting Magazine has featured one of Frankie's latest patterns in their Best of British issue – the first pattern to use Devonia DK! The pattern is named 'Devonia Cream', after the natural coloured yarn, and is a cropped, loose-fitting, jumper … with plenty of cables and texture! The yarn has awesome stitch definition and lovely next to skin softness. Perfect to chuck on and keep the wind out on summery walks along the beach. We would love to see a Devonia Cream knit in all the other colours! You can find the pattern in the June issue of Knitting Magazine (out now) and on Frankie's Ravelry page here. It will be available to buy on Ravelry towards the end of the year. Keep up with Frankies antics on Instagram too @francescahughesknitwear.