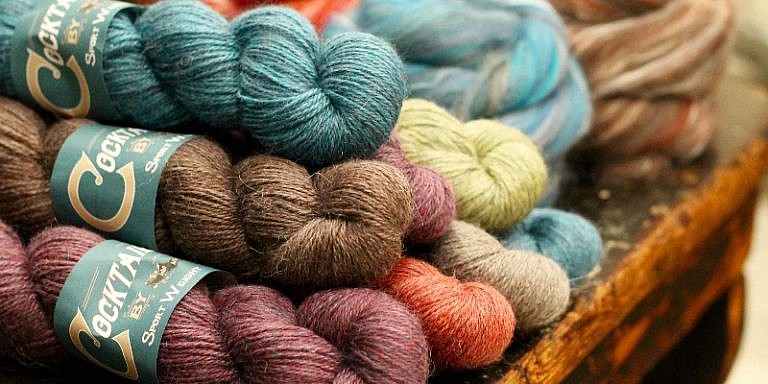 We're terribly excited to be all packed and ready for this year's Edinburgh Yarn Fest. We'll be bringing oodles and oodles of Yarn, Tops & Patterns for your delectation. It is always such a joy to leave our little corner of Devon and meet so many wonderfully woolly folk!
First up is our glorious Cocktail Yarn & Tops range that we've made as a limited edition special just for the show. This lustrous silk blend is a sport weight yarn (320m per 100g) and is so lovely and drapey to work with. We've created six cocktail inspired shades: Gin & Tonic (Juliet's Favourite tipple), Strawberry Daiquiri, Dark & Stormy (John's fave), Midnight Kiss, Sloe Gin Fizz and White Russian.
Composition: 60% Corriedale, 30% Grey Aplaca, 10% Mulberry Silk
Can't make it to EYF this year? Don't be distressed, the Tops version will be on the Secret Mill Members page in April.
We will also be bringing our new Exmoor Sock 4ply. This bundle of colourful joy enhances the durable character and bounce of the fibre from our local Exmoor Blueface sheep. We've added naturally dark browny-black Devon Zwartbles giving extra bounce and a subtle fleck of colour, plus Falklands Corriedale to enhance softness and stitch definition.
We'll have lots of patterns to accompany this new sock yarn, including one new pattern (pictured below) designed by Rachel, Lynton & Lynmouth. These socks are elegant and feminine with a fun textural detail and optional picot cuff.
EYF will also be the first outing for our new Exmoor Zwartbles 4ply yarn! The DK version has been a firm favourite for many moons, so we are particularly excited to share the 4ply with you.
To accompany this yarn, we have just launched two new patterns on our website: the Pothos Shawl by Sonja and the Chalkboard cardi by Francesca. Francesca's cardi is knitted in the DK with a pop of Harvest Hues and Sonja's shawl is in the 4ply with a Devonia contrast.
The stupendous Canisp Jumper by Emily is the latest new pattern on our website (and a sample coming to EYF). This elegant stripey number is knitted in our Devonia 4ply.
This year John will be giving a talk at the Make::Wool event on Sunday. He'll be talking about the journey of starting the mill (over 18 years ago) and the process behind making Yarn & Tops – and will impart some of the woolly wisdom he's learnt along the way!
We will also have some fantastic limited edition yarns on display, just for the Sunday Make::Wool event – how exciting! As this day focuses on British breeds and manufacturing, John has whipped up some very special British breeds yarn using some of his favourite local Devonshire fibres. If you're not able to make it to the Sunday, then these skeins will be on the Secret Mill Member pages after the show!
What a lot of excitement. The troup going to EYF this year are John, Juliet, Sonja, Frankie & Helena – a woolly famous five trip! We can't wait to meet you all (and fit in slurping lashings and lashings of ginger beer one evening).
By the way, hot off the presses, just arrived is our first ever Annual (which includes four exclusive patterns) and we've managed to squeeze some in the van for our first ever outing. Please catch a glimpse of the cover below.