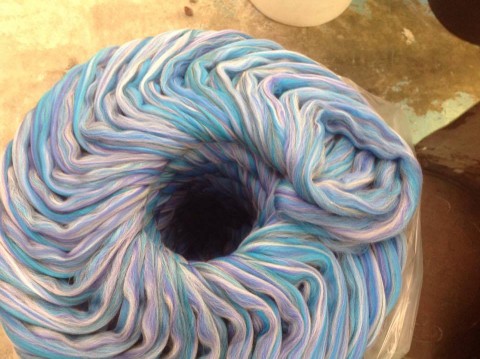 We are busily getting ready for Fibre East this weekend!
And along with all our yarns, and socks, we are taking loads of Tops …
including a special new Top blended up especially, and exclusively, for Fibre East called Spin Fresh.
Spin Fresh is a glorious blend of 55% dyed Merino / 33% Perendale / 12% Zwartbles and is a lovely Caribbean bluey sea colour!
We have had an event brought to our attention this year which we love the sound of… Spinzilla! It is a global event where teams and individuals compete in a friendly challenge to see who can spin the most yarn during Spinning and Weaving Week, the first full week in October.
And, some members of one of the Spinzilla teams will be at Fibre East this year … spinning like crazy on their wheels.
So we, along with others, are supporting them at the show by donating some of our latest Tops – Spin Fresh – for them to have a play with.
Make sure you check them out if you make it along to the show.
Hope to see you at the weekend!