#LoftAlong with Fay Dashper-Hughes!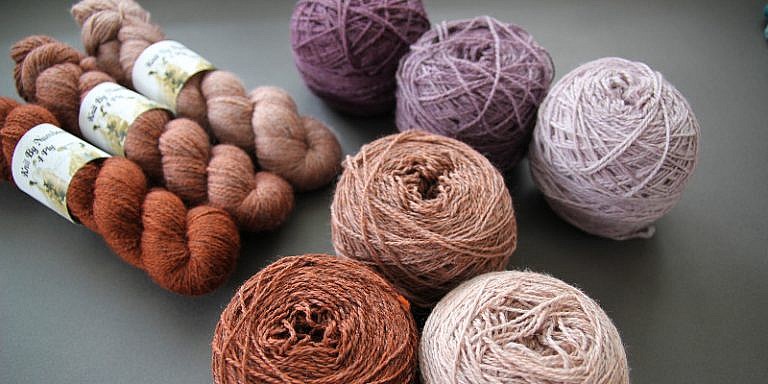 Here at John Arbon Textiles, we love Fay Dashper-Hughes' approach to design – frequently offered in both crochet and knitting versions. We are amazed and enthralled at the way she creates magic using both techniques!
Fay is not only a designer, but also host of the Crochet Circle Podcast (click to see the latest episode on YouTube or hear it on Podbean).
She is also a fantastic person – it is rare that a yarn show goes by without Fay popping round for a natter, and often with homemade cake which is a welcome gift!
So when Fay told us she was planning a Crochet / Knit Along (see below for the full info on this C/KAL rules) for her latest design, Loft – we couldn't resist joining in the fun! Loft (pictured below) is just gorgeous – and we hope you'll think about joining Fay and us in making your own version.
When designing Loft, Fay was inspired by a weekend away with lots of friends at Edinburgh Yarn Festival – telling us all about it she said…
"The stripes represent the many flights of our stairs to our city centre accommodation 'The Loft'. The pattern structure is simple but effective with easy to memorise increases, decreases and colour changes. It is worked sideways, starting at the smallest point, but beware, the stripes may become addictive!"
We think the finished result is just so effortlessly wearable…
This glorious accessory uses only three skeins of our Knit by Numbers 4-ply. We asked Fay why she chose to use our KBN yarn and she said the following (which made us blush a little – but we thought we'd better share her words with you anyway!)…
"Put simply, I love the KBN range. The colours available mean that there really is something for everyone and although I am always drawn to Autumnal colours, I would just as happily work with the bright turquoise within the range. Pair that breadth of colours up with organically farmed Merino, spun in Devon and you have a winning combination. If you haven't yet tried KBN, then the best way I can describe it is to say that it's like crocheting or knitting from a string of cloud. It's soft, airy, warm, and the subtle colour changes that you get because of the way the shades are created are just beautiful."
So without further adoo, we'd love to invite you to join in with the #LoftAlong! Fay will be hosting this C/KAL over on our Ravelry Group and also on Instagram using the #LoftAlong hashtag.
Plus as a bit of a thank you from us (to you and also to Fay) simply head over to the Ravelry thread to get your hands on a 10% discount code off the yarn for this project (plus a free project bag). And a note to all our splendid Mill Members… you can use this code in conjunction with your Membership discount, so the code will entitle you to and further 10% off.
Where do I get in on the chat about #LoftAlong? A chatter thread is being hosted by Fay on Ravelry in the John Arbon Group. On Instagram you can also use #LoftAlong for C/KAL chatter and also tag #LoftShawl so that your gorgeous makes will continue to be seen long after the C/KAL is done and dusted.
Where do I post my Loft FO? There is an FO thread in Ravelry and you can also use #LoftAlongFO on Instagram. If you post in both locations, you double your chance of winning a prize!
Will there be prizes? Eh, yes. There will be two main prizes:
1 – Two lucky folks will win 2 skeins of John Arbon yarn to complete one of Fay's other patterns, and the pattern of your choice (hard-copy or electronic). This prize is available to C/KAL participants that have posted a finished Loft Shawl, knitted or crocheted in only John Arbon yarn.
2 – A medium sized tweed project bag from Fay's online shop. You get to choose your favourite Harris tweed from her stash, and a corresponding waxed cotton and Fay will then have it made up for you. The colourway will never be repeated again, so you will have an absolute one-off project bag. This prize is available to C/KAL participants that have posted a finished Loft Shawl, knitted or crocheted in yarns that aren't from John Arbon Textiles.
3 – Runner up prizes of patterns (hardcopy or electronic).
Can I double dip with other CAL/KALs? Absolutely. Double dip, triple dip, quadruple dip away…
Is there pattern support available during the C/KAL? Yes there is. The written patterns have photo tutorials within and also contain a link to a YouTube tutorial (knitted and crocheted), so you should be absolutely fine with these simple but addictive patterns. If you need further support, Fay will be on hand to help.
If you're planning to join in, but would like a bit more advice about selecting shades, then never fear cos Fay has kindly offered some words of wisdom…
"Because every colour within the KBN range is available in 6 shades, it makes colour choice really easy. Lots of people struggle to know which colours work best and the beauty of this shawl is that you choose whether you want a dark or a light version. If you want dark, you start at the bottom of the range, and alternate until you have three skeins (missing one out each time). If you want a light version, you start at the top and alternate your choices. It's so easy."
It is by no means necessary to make a colour fade shawl – there are also many dreamy combinations for those of you would would like to mix things up a little with a multi-coloured option. Sonja pulled together a few options below, but there are oh so many to choose from. If you follow Fay's rules of going down the gradients, and skip one shade in each colour (so have the darkest, the 3rd darkest and then second lightest), you are sure to create a comination which has enough difference in tone from one colour to the next.
We are so looking forward to seeing what shades you pick!
Happily, Fay's beautiful patterns for her designs are now available on our website, both as printed versions and as downloadable pdfs (click here to view our patterns). So even if you're not planning to join in with our C/KAL, you may be tempted by one of her other elegant patterns. With full video tutorials, they are perfect for beginners but have detail enough to inspire more experienced crocheters and knitters.