Mill Open Weekend – Special Guest!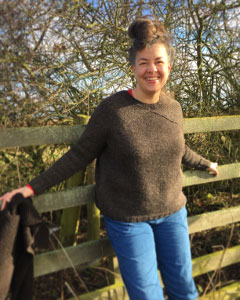 As the sun begins to peer between the clouds and the sea tries to warm up a little here in Devon, the Mill is a thriving hub of activity. We've begun to prepare for our annual Mill Open Weekend on the Sat 19th & Sun 20th May. Now in its 5th year, we look forward to a weekend of opening up the Mill, inviting you all in to have a peak of our wonderful woolly world and a slice of home-made cake.
But this year we also have a special guest joining us…
Rachel Atkinson of Daughter of a Shepherd will be with us at the Mill all weekend. She will be bringing her gorgeous yarns back to the place where they were spun and sharing her inspiring new book.
Rachel established Daughter of a Shepherd in 2015 with the aim of adding value to fleece shorn from the flock of Hebridean sheep her father shepherds, and that was previously considered worthless. So Rachel decided to approach John in the hope he would be able to produce a worsted spun yarn from the fibre.
After hearing Rachel's story, John couldn't wait to get his hands on her fibre. He blends Rachel's Hebridean with 25% Devonshire farmed Zwartbles – the blending of these 2 natural brown fibres together produces a better quality worsted hand-knitting yarn, whilst still retaining the Hebridean's characteristic deep brown shade, lustre and softness.
Daughter Of A Shepherd has gone from strength to strength, championing yarns with provenance and integrity, developed to support British shepherds and manufacturing. Working closely with John, the signature Hebridean & Zwartbles blend is now in it's third year of production and has inspired spin-off (if you'll pardon the pun) yarns including 'Brume' which brings Exmoor Blueface fibre into the blend to give a lighter tone to the original colour.
With a dream of one day tending her own small flock of sheep, Rachel is embarking on the next stage of her Daughter of a Shepherd adventure – continuing to work with John and Juliet, exploring new yarns and collaborating on exciting future projects.
We love Rachel's enthusiasm and excitement for the project and are pleased to have found a kindred spirit. We love Rachel's ethos and her mission to transform her father's Hebridean flock into a hand-knit yarn. John and Rachel believe strongly in small specialist production runs, using local fibres and the importance of the identity and traceability of the fibre that makes up a finished yarn.
John only works with fibres he is passionate about and believes the Hebridean makes a beautiful yarn with a wonderful structure and handle, capturing the great depth of colour of this dark brown breed.
As you may be able to tell, we here at John Arbon Textiles are very excited Rachel will be joining us at the Mill Open Weekend! … so if you fancy a trip to Devon in May come and share in a lovely weekend of woolly happenings.