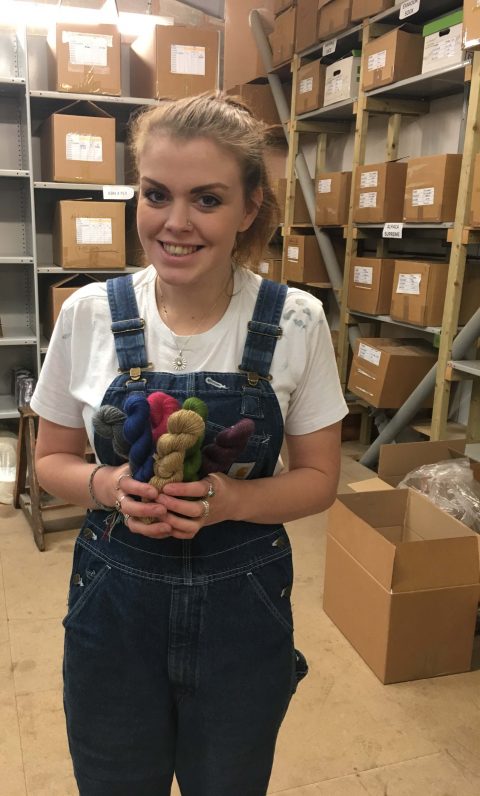 A little while ago we welcomed an adorable little machine as the newest member of the Mill family. We have named her Thumbelina and she produces the cutest little mini skeins. Over the last few weeks, our newest mill staff member, Natasha and the Thumbelina the mini skiener have been getting very well acquainted!
In fact, both Natasha and the Thumbelina have been so busy together that, by our Mill Open Weekend at the beginning of June, we will have a large range of our Knit by Numbers 4ply mini skiens ready and waiting! There is 25g per shade in each lovely mini skein…
The duo in action…

And if you haven't heard already, the KBN mini's will be part of the prize you can win in the lucky dip at our Open Weekend! Simply bring along something you have created with one of our products … be it spun fibre, a knitted garment, a crocheted accessory, a felted toy, or even a darned sock! Come show it to the ladies at the welcome desk and you will be entered into the raffle which we will draw a few days later. And part of the prize will be 8 KBN 4ply mini's! Think of all the colour possibilities!
We will be putting together a few different colour combo packs to inspire and give an idea of how colours can work together. But we can't wait to see the colour combos you think of! Are you excited to knit all the colour work yet!? We are!

So little and sweet next to its big sis!
So, we hope to see you in just under a month for our annual Open Weekend! We will welcome you with baskets of mini skeins, like a yarny pick 'n' mix fantasty! Find lots more about the Open Weekend here.