New Harvest Hues Patterns!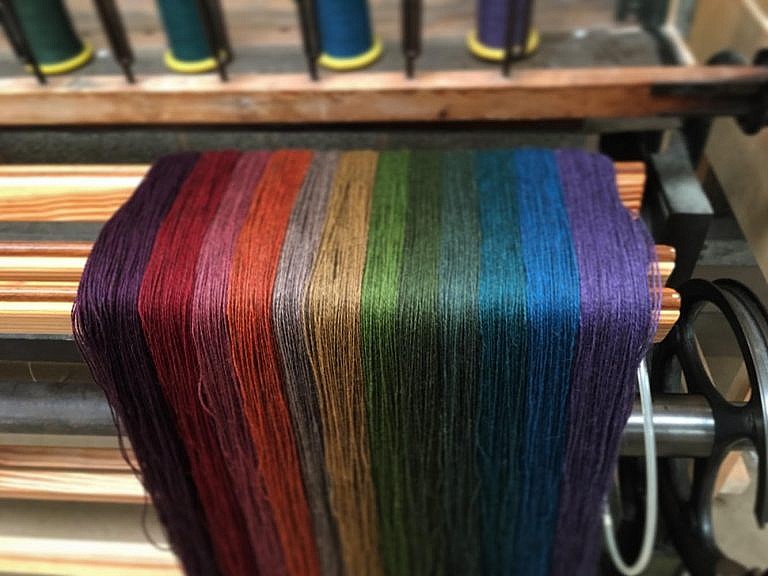 With autumn well and truly upon us, it's time to start thinking of reacquainting ourselves with those trusty woollens in our wardrobes and – maybe even – preparing to cast on some new ones! To celebrate tomorrow we've got some delightful new Patterns launching along with our expanded Harvest Hues colour palette.
Here in Devon, the arrival of autumn is always something to be celebrated. Autumn here is awash with gently fading splendour: bracken and seadpods are slowly tinged with gold and the moorlands become dusted with gentle purple heather blossom. All the punchy, bright shades of summer soften and become more muted. This changing of the seasons is the inspiration for our Harvest Hues Yarn and Tops range.
To welcome the autumnal months, all our new Patterns will be available with a special 20% discount both on our website and on Ravelry, until next Monday 24th September.
Use Code HARVESTHUES to get a 20% discount on each Pattern at check out 
We're always head over heels in love with anything our Francesca creates and this stunning jumper pattern is no exception! Vellamo is knitted using a combination of stocking stitch and garter, with just a hint of chevron detail. We adore that little pop of colour on the sleeves!
This version is knitted using Flax, Barley and Woad… mustard and turquoise is one of our all time colour combo so we just love this version!
Click Here to view Vellamo on our site and Click Here to view it on Ravelry.
Sonja is the newest addition to our team… we're chuffed to bits that she has created this simple, yet modern design to celebrate our launch. The Maranta Tee is knitted flat in two pieces, with a Broken Rib detail along the seams. The back is a little wider than the front, which creates a simple yet graphic silhouette.
Sonja chose to use Barley and Bramble for her sample, but we think this Tee would be gorgeous in any combo! Woad and Blue Spruce, Bracken and Pomegranate, New Leaf and Sycamore – the possibilities are endless…
Click Here to view Maranta on our site and Click Here to view it on Ravelry.
Fay's elegant and simple patterns are always a winner! We know many of you are taken as we are with the delights she produces. Her latest design, Arete, is no exception. This colourwork cowl is knitted in the round and then steeked. Fay has used our Harvest Hues held double, which makes for a quick and cosy knit.
If you're more of a crocheter than a knitter – don't worry! Fay will be launching an equally gorgeous crochet version in a few weeks time… so watch this space. Fay used Blue Spruce, Bramble, Thistle and Rosebay for her graphic sample. We just adore these shades together.
Click Here to view Arete on our site and Click Here to view it on Ravelry.
Inspired by the colours and textures of Denmark's North Eastern coast, Alice's gorgeous Ebel Shawl celebrates our Harvest Hues palette, and makes use of Barley's heathered neutral and Woad's rich blue to contrast between the sea and the shore.
Worked in garter stitch throughout, Ebel is the perfect travel knit and also provides an excellent canvas for showing the yarn off to its fullest! The rhythmic rows of garter stitch are interspersed with a number of stripe patterns, which create a relaxing but engaging knit. The Ebel shawl is worked flat from one tip to the other, gradually increasing at one edge until its widest point. The shawl is then worked straight before decreasing begins, mirroring the increase pattern. The longer shaped edge of the shawl is worked with a crochet bobble edging in a contrast yarn to finish.
We love the simple rhythm of Alice's design. It is a perfect canvas for experimenting with texture and colour, we think it would really make handspun yarn shine too!
Click Here to view Ebel on our site and Click Here to view it on Ravelry.
Frankie's deliciously textured Gilt Wood Shawl is technically not a new pattern, but we've re-knitted it in a new colour combination. This has transformed Gilt Wood into a delicate and feminine shawl. We hope you'll love this new combination as much as we do!
Gilt Wood is a large square shawl, perfect for wrapping round shoulders on a cold day. Folded in two it is still plenty big enough to wrap you up. Using bramble stitch, yarn overs and Fair Isle sections it is a fun engaging knit. Started with a square knit flat, stitches are then picked up and knit around the square then knit in the round. Increases take place at the corners.
Click Here to view Gilt Wood on our site and Click Here to view it on Ravelry.
We hope you've enjoyed this glimpse of our new Harvest Hues Patterns and cannot wait to see which colour combinations you pick for your own versions!
Yarn, Tops and Patterns will all go on sale Thursday 20th September in the afternoon.
Use Code HARVESTHUES to get a 20% discount on Patterns til Monday 24th September