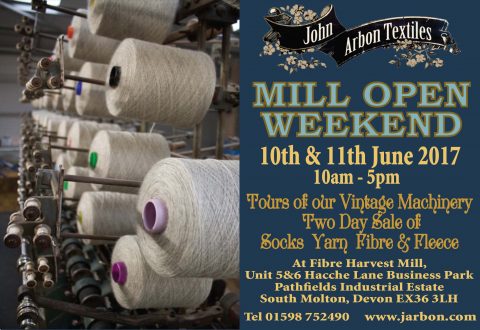 It's now just a week until our annual Open Weekend at our Mill in South Molton. All our lovey machines are being dusted down and polished by John and the team at the Mill as we speak!
been gathering lots of treats to share with you!
Including…
Cobweb Merino lace yarn in black and white (perfect for fine lace work and intricate shawl motifs), a limited run of Merino light 4 ply in charcoal and various limited edition blends and counts of white yarns (ideal for hand dyeing and experimenting with colour).
Plus lots of mill ends and odd batches balled into yarn cakes and hanked into skeins ideal for accents on projects or creating little people's garments and toys.
Now, lots more loverly tops blends to make!
And, of course, to organise the (eating) of the cake!
We hope to see you here next weekend armed with finished projects to enter into our raffle for a chance to win some of our brand new Knit by Numbers mini skeins.
Find out all the details about the Open Weekend here.