Our Mill Open Weekend – Show & Tell Round Up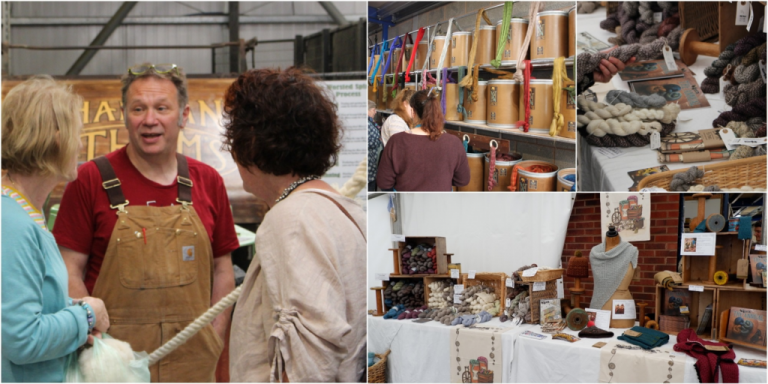 We want to start by saying a massive woolly thank you to all of you who popped by our Mill Open Weekend a couple of weeks ago. It was such a joyous event with much laughter and nattering, 'tis always a real treat to open our doors and welcome you all inside our Mill! Tea and cake were scoffed, Tops and Yarns were fondled, Machines were admired and mountains of limited edition goodies were cooed over and taken home as souvenirs… We hope that all of you who were able to attend had as much fun as we did.
And, all us Mill folk had such a fab time that we have decided to do it all again next year … so, for your diaries in case you fancy another visit, or want to experience our woolly home for the very first time: The next Mill Open Weekend dates are Sat 6th & Sun 7th June 2020
As you may know, one of the highlights of our Mill Open Weekend is our Show & Tell raffle.
Every year we enter all the folk who bring along items made using either our Tops or Yarn (or both) into a raffle. This is one of our absolute favourite bits of the whole weekend – all of us just love seeing all the wonders that you splendid folk concoct using our wares.
We had a staff outing to the beach and thought this was the moment for John to randomly pick all the winners out of a his favourite sandcastle bucket (turrets and all!).. So, without further ado, we'd like to present you with this year's woolly Show & Tell winners. Such a unique and diverse range of delights! We hope you'll find them as inspiring as we did.
First up was Chris who has made this brilliant Christmas jumper in our Knit by Numbers. It is complete with reindeer and a bright pop of festive red.
Joan created this shadow weave scarf using some lovely hand spun in the soft subtle shades of our Harvest Hues Tops. We love her stripes!
This fab yarn is Susanne's first ever spinning project. She decided to go for some real luxury and chose our Alpaca Supreme Tops– beautiful. Susanne is a natural spinner, just look at the lovely texture of the yarn she's created.
Carol brought along this beautiful Celtic Myth Shawl designed by Asita Krebs. Carol used our Mill Open Weekend 2015 special yarn, for her version. Such a gorgeous piece of work and lovely to see the vintage Mill Open Weekend special going to such fantastic use!
Jenny knitted this colourful Fair-Isle tam using a bag of hand spun broken tops. Our handy bags of broken tops contain lots of useful little bits (often in multiple shades) so they're great if you want small amounts for colour work like Jenny.
Christine, whipped up this beautiful cardi using her own handspun. For the main colour she used our Viola Cinnamon Tops plied with some Alpaca with a Sycamore Harvest Hues button band. Such a brilliant colour combination and what a lovely staple piece – we would love one!
Eleanor has been whipping up a beautiful array of accessories using her 'Boost your Knitting' e-book. So far she has made both the Apple Swizzle Hat and the Totally Tubular Mitts. She has used our Devonia, in Pollen Gold – such a delightful shade of mustard.
How adorable are these needle felted fairies? They've been conjured into existence by Chris. She's lovingly crafted each one by needle felting our various Tops – such a delight!
This fab striped cowl was knitted by Jacki using our Exmoor Sock yarn and Joji Locatelli's '3 Colour Cashmere Cowl' pattern. We love the striking combination of neutrals with a pop of electric Oddmedod that Jacki chose! She was also our demonstration drop spindler over the weekend – thanks Jacki (it was wonderful to have you as part of the team).
Tracey knitted this fab Loft shawl using the Teal shades of our Knit by Numbers. Just as she was revealing this to us the lovely Fay (who was vending and also designed this very shawl pattern) was walking by – what a fab photo of them both. Tracey knitted her version using KBN 4ply, but this clever pattern can be made using either Crochet or knitting and DK or 4ply.
Claire has also used our KBN 4ply when knitting 'A Girl's Best Friend' shawl, designed by Isabel Kraemer. We love the subtle autumnal colour palette she's selected and all that glorious texture.
This wonderful yarn was hand spun by Nerys using some of our current Tops specials: our Slow Gin Fizz, Gin & Tonic and Strawberry Daiquiri Cocktails Tops as well as our Black Gold of the Sun. All these goodies can currently only be found on the Mill Member'sSecret Pages of the website. These skeins were such a delight to see!
Many congratulations to all these winners and thank you so much to all the other folk who came to our Mill Open Weekend and took part in our Show & Tell as well. There were so many splendid creations. Thank you for bringing them along for us to see.
We would like to thank all those who helped make the Mill Open Weekend happen (too many to mention here, but you know who you are). And a massive thank you to all of you, our lovely customers and woolly supporters who attended (and those who could not attend but sent so many words of support and encouragement) … without you all, it just would not have been such a truly splendid weekend!!!!!
And we leave you with tis rather crazy photo taken at the end of Sunday – a load of happy Mill folk saying a great big THANK YOU!