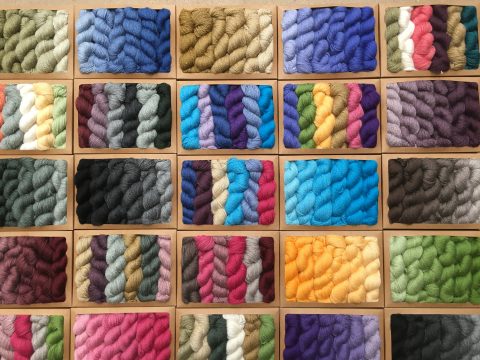 In just a couple of days we will be heading to the big city of London for Pomfest! The fabulous PomPom Quarterly magazine is 5 years old this year and we will be celebrating with lots of yarn, knitting and partying!


We are so happy to support such a wonderful mag and have enjoyed watching it bloom and flourish over the years.
As well as having a stand in the market place our very own John Arbon will be spinning records (rather than yarn) at the Friday evening party!
On our stand we will have a selection of yarns, including the brand new Mini Skiens of Knit by Numbers in 4ply! They are super cute, 25g mini twiddles. So much fun can be had putting different colours together, changing accents and thinking about all the Fair Isle and colour work that can be done!
And of course our all British new yarn Devonia in both DK and 4ply.
As well as our Alpaca 2-3ply heavy lace weight which featured in the 5th anniversary issue of PPQ in a design by Frankie!
Jamboree by Francesca Hughes is a lacy and floaty striped summer sweater using one main colour and two punchy accents. Perfect for wearing over a summer dress. There are a few projects finished over on Ravelry so far, take a look for different colour stripe inspiration here!
(Jamboree images by Nicole Mlackar)
We hope to see you at Pomfest this weekend!
10am – 5pm / Friday 14th – Sat 15th July 2017
Pomcast Live / Friday 14th July, 6.30 – 10.30pm
Studio Spaces, 110 Pennington Street, London E1W 2BB
Tickets still available and more information can be found here.