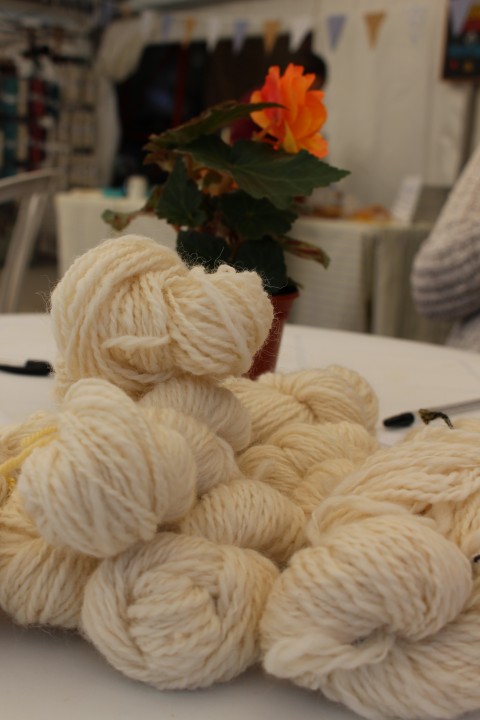 After inviting everyone to come along to our Open Weekend with something crafted from our fibre or wool, it was great to see lots of entrants to the raffle to win a goodie bag.
We had some amazing things entered! From felted sheep, to experiments gone wrong with knitting then felting! And everything in between! It was lovely to hear the stories of creations also, from companionship in hospital to whipping something up on the journey to the mill. Again, we love seeing what you have made … we have a group on Ravelry dedicated to showing off your finished objects here.
Here are photos of what was entered, in no particular order. Winners will be picked and announced in at the end of June … sorry for the delay John and Juliet have gone off on their holidays and want to be here for the grand raffle prize drawer!  We will keep you posted and let you know the winners…
Beautifully spun Corino Top
A beautiful cardigan made from a Alpaca and Silk blend.
Hand spun Light Steel Alpaca Supreme yarn.
A lovely cardigan made from Alpaca Supreme, and with other Alpaca yarns.
A fab hand spun and hand knitted shawl by charming regular Russell.
The cutest Russet Bear, hand spun and crocheted.
Little Mitts made from Blueberry Alpaca Delight yarn.
At hat made using Viola, modelled by her super cute dog.
Katies beautiful cardigan, near enough finished 😉 made from last years special Open weekend yarns in Bluebell.
A denim style waist coat using Knit by Numbers denim shades.
Hand dyed and knitted lace shawl.
Hand spun and hand woven fabric.
Juliet is presented with a hand spun skien made from Merino / Zwartbles Bracken, formally Fibrestarter. By Brenda who also entered…
A great story of this ladies first attempt to knit and felt something. It didnt turn out quite right! The second attempt is a successful beret!  Made from hand spun Blue Spruce.
Hand spun sections of this lovely scarf using Merino Silk Siren.
This lovely lady had used her time in hospital very well knitting her Powdered egg Excelana Balero.
Incredible little felted sheep. The lady has been trying really hard to create a Herdy sheep, she now has a whole flock she jokes. I would say she is there!
Incredible hand spun and hand knitted shawl.
Hand spun The Three Supremes. The blend looks just incredible when all spun together.
A lovely sock and mitten set made from Alpaca Sock yarn in Avocado.
Lovely Knit by Numbers jumper, good colour on you!
Two lovely girls who had knit hats for their bunnies!
And finally, and hand felted shawl using Siren.
Good luck to everyone!! We look forward to drawing the winners, thank you all for putting hard work into your projects and willing to share them with us.
Love John & Team X