The introduction of Dr. Mo…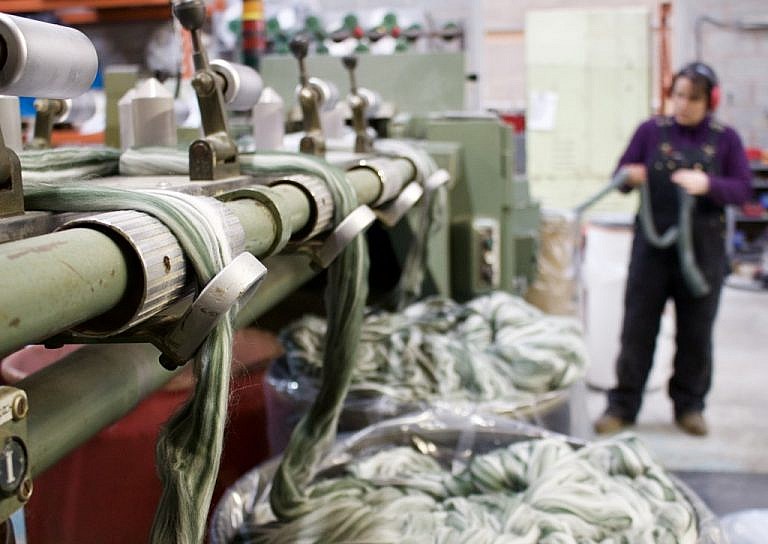 For quite some time now John has been hankering after a new Gill Box to enable us to produce more yummy tops at our Mill. One of John's most favourite machines, they are an integral part of the process that makes our luxury Tops blends second to none. You have to be top of the Tops (sorry, could not resist the pun!) to be let loose on and operate these lovely machines at the Mill.
Ralph and Cuthbert are our original Gill Boxes – these machines look and sound rather imposing, but their process is creative and soft. They align the fibres and blend colours to create a smooth length of gorgeously luxurious fibre tops.
A new addition to the Gill Box team has been part of our Mill expansion plan, so John was over the moon when he found Dr. MO.
Mill machinery can be a little tricky to come by and often involves a bit of a chase. This particular machine began its life in France and came to us via Lithuania, so Dr. MO (as we have named her) has been on rather a journey to arrive with us down here in Devon. She's already in her forties, but as long as we keep her well-oiled and feed her a balanced diet of various breeds of wool, silk and alpaca, she'll be going strong for decades to come.
Dr. MO, is still being assembled at the moment. But we are hoping to have her up and running for the Mill Open Weekend, so that you'll be able to see her in all her glory.
As you know at our Mill Open Weekend we love a good raffle, which is essentially how our 'Show & Tell' started. So please do bring along anything crafted in our yarn, tops, fibre or old socks to 'Show & Tell' (be it knitted or crocheted, spun or woven, felted or stitched, or all of the above). Your item will be logged and photographed and you will be issued with a raffle ticket and entered into our lucky dip draw (which happens a few days after the Mill Open Weekend). And then, if your ticket is drawn you will receive a woolly goody bag of treats or a Mill Membership! It's our most favourite thing to see what our yarn and tops become when they leave us! We love the idea of these gorgeous woolly wonders returning to the Mill (where their lives began).
Here are some previous year entries to inspire!
And don't forget, you can look forward to seeing Rachel from Daughter of a Shepherd with her gorgeous yarn, samples and new book. Read more about our special guest here.
So if you fancy a trip to Devon to our Mill we look forward to seeing you on Sat 19th & Sun 20th May (see here for full details of the weekend and how to find us). The tours are booking up fast so if you fancy pre-booking a tour slot please simply contact Juliet ([email protected]), or you can come along and skip the official tour if you'd rather, glance at the machines on show, and simply soak up all the wonderful wooliness the Mill has to offer.